Matrixyl 3000 Peptide Hyaluronic Acid Retinol Collagen AntiAging Vitamin C Cream Enchanted Waters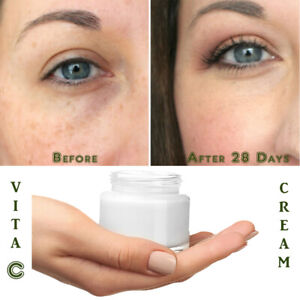 Features
Size: 2oz.
Type: Day & Night Cream
Department: Unisex
Other Ingredients: Hyaluronic Acid-Retinol-Matrixyl 3000-Niacinamide
Country/Region of Manufacture: United States
Application: Twice Daily Each Am & PM
Ingredients: Vitamin C
Features: All Natural Ingredients, Contains Alpha Hydroxy Acid, Contains Collagen, Contains Hyaluronic Acid, Contains Retinol, Cruelty-free/No Animal Testing, Paraben-Free, Sulfate-Free
Formulation: Cream
Expiration Date: No less than 18 months after purchase
UPC: 630239776379
Main Purpose: Aging, Wrinkle/Lines, Damaged Skin
Packaging: Glass Bottle
Benefits: Restores/Retains Youthful Glowing Skin
Body Area: Face, Eyes, Neck, Decollete
Problem Solvers: Erases Wrinkles & Fine Lines, Fades Dark Spots
Skin Type: All Skin Types
User reviews
Really not much to say yet.. it's too early..The one thing I can say is I ordered on7/6/20 and received it on 7/11/20..This product is very creamy,and goes on smoothly. As far as I can tell my skin is moisturized..But for anti aging benefits well like I said it needs more time .Usually the least is three months..I think it lessons the wrinkles a little ..I may be putting on too much..Sometimes less is better from what I read on other products. I just recently received a toner from elsewhere and use with this seems to work well. I hope others are noticing their anti aging benefits.. Thankyou much for this product..Will purchase again sometime..since I'm an older gal in her 50 s. I really can't jump around from different products as I did when I was young..or it's really not good to do..So far no bad reactions to any products..
After MONTHS of use, the dark circles under my eyes remain. They did not even get lighter. I did not expect them to disappear completely, but a little lighter would have been nice. I do not know who they used for the pciture, (which made be by it), but it does NOT work on dark circles. I checked "no" to both good quality and good value, since it did not work for me. No matter how inexpensive something is if it does not work it is not of good value and if the ingredients do not work towards the claim, I cannot say the quality is good. I submitted pictures of BOTH eyes as proof.
I started using this project about two weeks ago and I can see the difference already. I'm 63 and had trouble areas that made me look almost ill. After the first week the lines and wrinkles weren't so overbearing on my face. I can actually feel it working. My daughter notice a difference right away and said my skin looks smoother, brighter and healthier. I enjoy using this product. It works for me!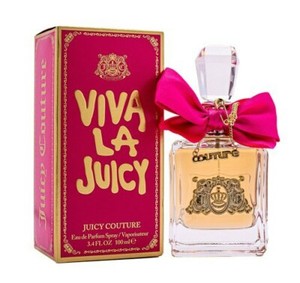 Viva La Juicy by Juicy Couture 3.4 oz EDP Perfume for Women New In Box, Juicy Couture
Features
Packaging: Retail Box
Fragrance Name: Viva La Juicy
Volume: 3.4 oz
Type: Eau de Parfum
UPC: 098691047718
User reviews
Juicy gold has long been my go to perfume and never disappoints.. very nice low key fragrance I get compliments all the time and this price is outstanding! I first bought in a major department store for $90 same size 3.4 oz so this is where I buy mine now!
It was a blind buy and I can't even express how much I dislike it. The bottle is cute in a very tacky way, in case anyone cares about that... And I can guarantee that it represents the perfum to perfection: just tacky.. Nothing Jackie Onasis would've ever worn. Men seem to like, but again, I just feel as if I wearing a mix of the most vulgar notes ever. It is long lasting.
I received as a gift from my husband and I love it! It's long lasting and has a nice subtle, sweet scent. The bottle is also beautifully adorned with a bow and chain and just overall great quality!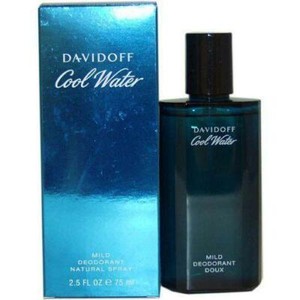 COOL WATER by Davidoff cologne Mild Deodorant Spray 2.5 oz NEW IN BOX, Davidoff
Features
MPN: 65513
Fragrance Name: Cool Water
Volume: 2.5 fl oz
Custom Bundle: No
Type: Deodorant Spray
Formulation: Spray
Package type: Brand New in Box NOT A TESTER
UPC: Does Not Apply
EAN: 3414202000220
Description
About this product Product Information Cool Water Is A Fresh New Approach To Men's Scents, Clean And Invigorating. It Is Fresh And Crisp With Notes Of Lavender, Menthe, Iris And Musk. This Brisk Aroma Will Certainly Invigorate Your Senses. Wear This Fresh, Clean Scent Casually And For A...
User reviews
This isn't my main go to cologne whether I'm going to work or going out. This isn't made to impress. But I am impressed by the value of it. I use it to get an extra "boost", a feeling of a whole another level of freshness after taking a shower after work. It lasts on me for about 2-3 hrs. Projecting really well in the first one. For a bottle that costs 10-12 dollars, this is excellent value. Timeless, classic CW smell, just a weaker concentration than the eau de toilette. If you like some cologne to run errands or just wear inside the house, this is a must have. It's to smell clean and fresh, not to impress or seduce someone, there are better fragrances for that.
I had to give this product one star because review without a star was not available. The fragrance of the product doesn't last even for two hours. It was a complete waste of money and time. I would not recommend it to anyone. I have contacted ebay before writing this review as I got a message with my shipment with a request to contact ebay before writing a review. I did not hear back from them.
After a workout at the gym, this is a great summer fragrance.